Tours & Shows
---
The SSSR Membership Committee has put together a roster of tour and show options for the 2018 Annual Meeting. Those wishing to participate in these optional offerings should sign up using the forms linked below, and we will make the necessary reservations. The cutoff date for ordering tickets is September 30th.
Payment must be made via PayPal; no checks can be accepted. Should tickets for a specific event no longer be available by the time we are making the final booking, we will notify you and refund your money via PayPal.
---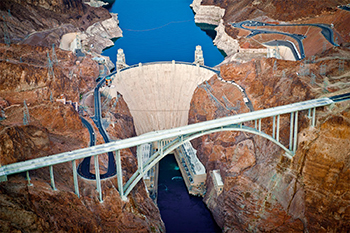 Thursday, October 25
Hoover Dam PM Tour
11.50 am departure from the Tropicana Hotel
$80.00
Join us at the Hoover Dam as we show you what has been known as one of the engineering wonders of the world: Hoover Dam is also known as Boulder Dam. When completed in 1935, it was both the world's largest electric power producing facility and the world's largest concrete structure. It is currently the world's 34th largest hydroelectric generating station. During the tour you will be able to view the seventeen turbine- generators that generate a maximum of 2,074 megawatts of hydroelectric power. The tour company will also show you the Arizona spillway and the Arizona Look Out. (This is not the hard hat tour.)
The tour offers an unlimited supply of bottled water. Wear comfortable walking shoes. Limited wheelchair access. No suitcases or oversized backpacks allowed due to security at Hoover Dam.
The tour picks up directly from the Tropicana Hotel, in the lobby by the Bagatelle Nightclub, at 11.50 am. Drop off is typically by 6.00 pm.
---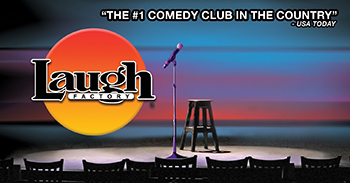 Thursday, October 25
Laugh Factory Las Vegas
8.30 pm at the Tropicana Hotel
$28.00
The Laugh Factory Comedy Club schedule is always full of the hottest comedians in the business – superstars from the big screen as well as up-and-coming Las Vegas comedians.
---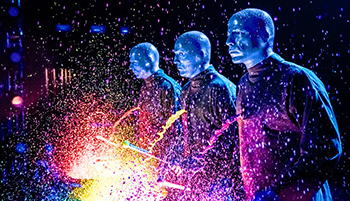 Friday, October 26
Blue Man Group
9.30 pm at the Luxor
$110.00
Blue Man Group will rock your world, blow your mind, and unleash your spirit. Leave your expectations at the door and let three bald and blue men take you on a spectacular journey bursting with music, laughter and surprises. 35 million people of all ages, languages and cultures know what Blue Man Group is really about. Now it's your turn.
---

Saturday, October 27
Purple Reign Prince Tribute Show
9.00 pm at the Tropicana Hotel
$75.00
Purple Reign captures the imagination and seamlessly recreates the blistering performances and raw energy of Prince in his prime and redirects you to the era that made "The Artist" an international superstar. This show is a must see for "Purple Rain" movie fans and all live music fans alike!
---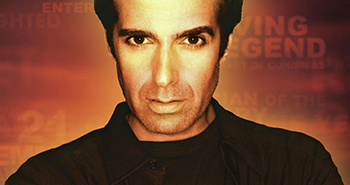 Saturday, October 27
David Copperfield
9.30 pm at the MGM Grand
$145.00
David Copperfield is a legendary showman who's been hailed by audiences and critics alike as the "greatest illusionist of our time." In addition to decades of television events, worldwide tours and a critically acclaimed Broadway show, Copperfield continues to confound and delight audiences with his unbelievable illusions and charming stories. Experiencing a Copperfield show is proof that "magic is as vast as the imagination."
---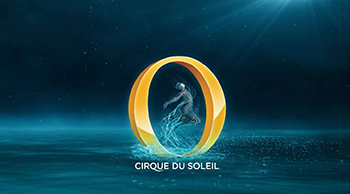 Saturday, October 27
"O" by Cirque du Soleil
9.30 pm at the Bellagio
$160.00 or $240.00
Cirque du Soleil® weaves an aquatic tapestry of artistry, surrealism and theatrical romance in the timeless production, "O". The international cast of world-class acrobats, synchronized swimmers, divers and characters perform in, on and above water to create a breathtaking experience in a magnificent theatre reminiscent of a European opera house.